Product Overview
Graf Carat S 1700 Gallon Underground Extension Tank. This tank is intended to be used as a cost-effective extension tank to increase the storage capacity in conjunction with other Carat tanks which provide the access for pumps and filtration.
The Tank Guaranteed Not to Collapse When Empty*

1700 Fully-usable gallons of additional storage
* When installed in compliance with manufacturer's installation instructions
Note: This is the Extension Tank which is intended to be used with the 1700 Gallon Carat S Underground Tank which can be found by clicking here.
Easy and safe assembly
The patented quick connection (illustrated in green), allows the Carat tank to be assembled without screws in only few minutes. Disassembly is possible at any time.
The first-class EPDM material used in the profile seals (illustrated in yellow), has been laboratory tested to last more than 25 years.
The centering bolt (illustrated in orange) assures the accurate and easy assembly of the two half shells preventing any leaks
More advantages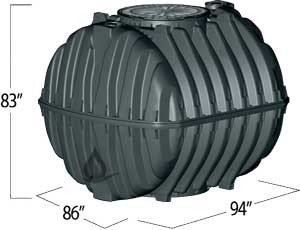 Variable burial depth: 30" to 70.9"
70.9" maximum burial depth

even in groundwater

Unique in the world! – a global innovation: unique manufacturing process produces the highest stability due to latest techniques
Unique fit accuracy of the components thanks to new production process
Consistent quality due to German TÜV safety testing and production monitoring
Groundwater stable up to the middle of the tank due to extremely rigid construction
Secure investment with market leading 15-year warranty
Made from high quality Duralene; easy to recycle
Can be expanded as required
Application:
The global innovation – the new tank generation of the Carat rainwater underground tanks have been specially developed for rainwater harvesting
Frost-proof installation underground
Groundwater stable up to the middle of the tank due to extremely rigid construction
Logistical advantages of the Carat:
The Carat tank consists of two half shells which can be stacked on top of each other, allowing multiple tanks to be stacked on a single pallet for shipping. For example, it is possible to stack five 1,700 gallon Carat tanks on a single pallet. This allows a standard 40 ft. shipping container to house a total tank volume of up to 34,000 gallons! The tanks' unique stacking feature directly reduces transport costs and environmental impact from vehicle emissions.
| | |
| --- | --- |
| | |
| | Download Graf Carat Tank Installation and Maintenance Manual |
| | |