3" Leaf Eater Advanced Downspout Filter
3" Leaf Eater Advanced Downspout Filter
Product Description
While Supplies Last!
The Leaf Eater Advanced™ Rain Head prevents debris from entering the Rain Harvesting system, improves water quality and reduces tank maintenance.
The single screen incorporates Clean Shield™ technology which deflects leaves and debris away from the flow of water. This minimizes maintenance and enhances catchment efficiency. This Rain Head incorporates a VH Pivot™ outlet that swivels to suit vertical or horizontal downpipes. The Leaf Eater Advanced™ can also be used as a debris removing device even when rainwater is not being collected.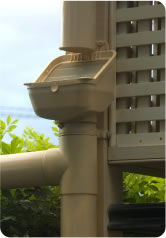 Features and Benefits
Compact, versatile rain head for quick and easy installation
Patented single screen technology for advanced debris shedding (Clean Shield™)
Minimal maintenance
Pivot the outlet to suit vertical or horizontal (rear outlet) downpipes – variety of installation options in one product (VH Pivot™ patent pending)
High flow rate performance
Superior catchment efficiency at low and high flow rates
Single screen with 0.955mm aperture mosquito proof stainless steel mesh
Connects to 3" Downpipe
Documentation:
Leaf Eater Advanced Installation & Spec Sheet


Other Details
Manufacturer:
Rain Harvesting PTY
Find Similar Products by Category